Product Guide To Picking The Right Scrub Daddy

As the Scrub Family seems to be growing bigger and bigger, we understand how overwhelming it can be to know which product is right for the job you need to do. From scourers to sponges and dual sided scrubbers to erasers, the product range is endless and they all benefit different jobs. We've put together a super easy product guide to help you find the right match for you.
Read more for our Scrub Family product guide…
Scrub Daddy

Good for: tough scrubbing in cold water, light cleaning on worktops in soft water, removing sticky label residue, washing up.
Benefits: You control your scrubbing power. Scrub Daddy is soft, compressible, and more absorbent in warm water. In cold water he's firm and can remove stubborn debris without the need for added harsh chemicals. Safe scrubbing on over a dozen different household surfaces including glass, non-stick coatings, granite, ceramic, wood and stainless steel. We've done the testing so you don't have to. Food particles rinse away with a few squeezes under warm running water. FlexTexture® dries within an hour so it won't mould and is independently lab tested to not hold odours for up to 8 weeks. Quickly clean both sides of serving spoons and utensils in one motion. Scrub Daddy's eyes hold onto you, so you'll never run into a hard-to-reach place again. His circular shape lets you clean the sides and bottom of containers at the same time.
Scrub Mommy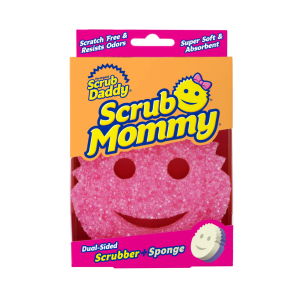 Good for: scrubbing and wiping away soap scum in bathrooms, creates tons of suds for washing up, exfoliating, oven clean.
Benefits: Her FlexTexture® side becomes firm in cold water to deliver added scrubbing power. In warm water it softens, becoming better suited for light cleaning jobs. Her ResoFoam® side is 6x more absorbent than the leading brand, produces 60% more soap suds, in addition to being odour and stain resistant. Scrub Mommy's shape is ergonomic and fully functional. Use her eyes to clean 360 degrees and reach the bottom of tall glasses, coffee pots and sauce pans. Her smile cleans both sides of utensils in one easy motion.
Scour Daddy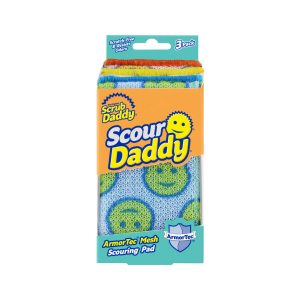 Good for: powering through stuck-on stains, scouring burnt-on food from pans, cleaning ceramic and enamel hobs.
Benefits: sturdy core distributes pressure effectively, 32% thicker,  65% stronger and absorbs 64% more water than the leading competitor, soft in warm water, firm in cold water, mix and match colours to organise your cleaning, rinses easily to release food particles, scratch-free on non-stick pans, hanging loop to promote fast drying.
Sponge Daddy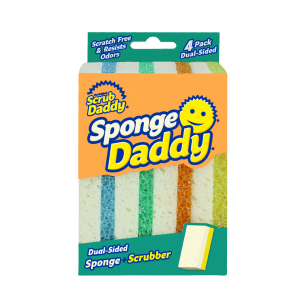 Good for: doing the dishes, cleaning ceramic and enamel hobs, removing soap scum from kitchen fixtures, scrubbing tiles and grout clean.
Benefits: doesn't scratch any surfaces, soft in warm water, firm in cold water, 6x more absorbent than leading sponges, multiple colours for colour coded cleaning, ResoFoam® sponge stays soft even when dry, rinses clean with just water, generates tons of suds for a soapy lather.
Eraser Daddy 10x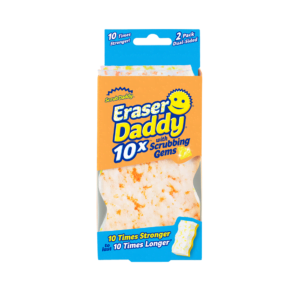 Good for: remove scuff marks, crayon from walls, baseboard marks, revealing the white soles of your shoes.
Benefits: Our tri-composite eraser is manufactured differently than traditional melamine. The end result? An eraser so strong it actually lasts over ten times longer than the competition. A backing of Scrub Daddy's exclusive foam adds structure and versatility. Use it to remove rough surface debris before erasing or simply tackle those other items on your to-do list in need of a scratch-free scrub. A blend of FlexTexture Gems in every eraser adds scrubbing power. Use 10x in areas residue tends to reside like around the bathroom. Reveal a brilliantly bright clean on tile, porcelain, glass and laminate.
Style Collection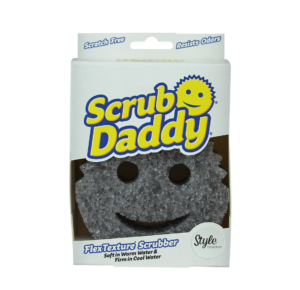 Our Style Collection has all the same benefits of the product you know and love but just in a new stylish grey to compliment your interior.
Which Scrub Family member from our product guide if your go-to? Share your uses for Scrub Daddy with us on our Instagram.
https://scrub-daddy.de/wp-content/uploads/2021/03/Retail-Products-min-scaled.jpg
1875
2560
alice
https://scrub-daddy.de/wp-content/uploads/2020/03/Scrub_Daddy_logo-300x195.png
alice
2021-03-11 13:00:04
2021-03-11 13:00:04
Product Guide To Picking The Right Scrub Daddy